Community event
Mark Saturday 26 March in the calendar as Gippsland Aquatic and Recreation Centre turns one, and you're invited to join the celebration!
Since opening, the facility has employed over 110 staff, members have sweat their way through over 550 group fitness classes and opened its doors to over 141,416 visitors.
So if you've been with us from the start, come help us celebrate. And if you're yet to check out all the action our birthday party is as good a day as any, with free pool entry, pool games, a DJ and a range of membership and merchandise savings. Book your place, or get more info below.
Grab your friends and family and don't miss this party! Join the Facebook event to follow the event updates.

Free activities
Wibit: Inflatable water park
The giant floating inflatable obstacle course is made up of different modules for balancing, climbing, jumping and sliding, race a friend or test your balance and speed. The Wibit will be available for bookings Friday 25, Saturday 26 and Sunday 27 March. Sessions on the birthday event day, Saturday 26 are free.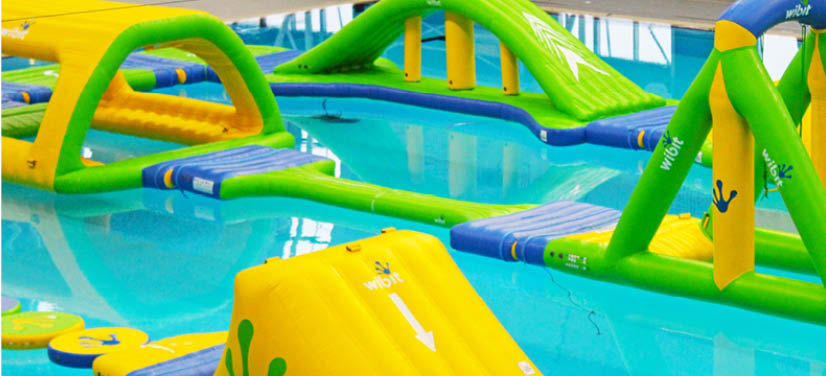 Les Mills superset class
Including Body Pump, Balance and Attack with cutting-edge exercise science and motivation. Whether you are a dancer or a jumper, this superset it sure to get you moving. Bookings are essential.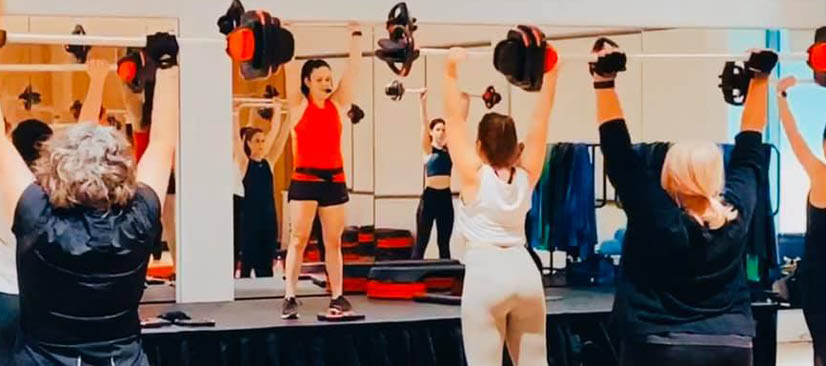 Birthday special offers
Membership Deal
We're offering a $0 joining fee on all health and wellness memberships.
Members get:
A choice of membership type to suit your wants, gym, swim, or both. A Personal Success Plan designed around your goals through unlimited check ins with qualified trainers. Workout out solo or on a group with our range of group fitness classes catered to all ages and fitness levels. Joining with one of our many membership options gives you the chance to feel healthier and happier.
First two weeks of swimming lessons free
Swimming lessons help children establish a lifelong appreciation for safe activity in the water – learning vital survival skills not just for the pool but for rivers, lakes and the ocean and around water. Swimming lesson membership includes weekly lesson and access to the pools for the student and supervising adult at any other time - There is no better time to start than with the first two lessons on us.
Wait, there's more!
Be sure to visit reception on Saturday March 26 for these birthday offers:

20% of all merchandise.

Personal Training Offer: Buy a 7 x PT sessions and 3 sessions free.

These offers are only valid on our birthday event day: Saturday 26 March.

Terms and Conditions: Offers and event activities
$0 Sign up fee offer

1. Offer and Eligibility

(1) This '$0 Sign Up Fee' promotion (Promotion) is offered by [Victorian YMCA Community Programming Pty Ltd (ABN 75 092 818 445) of 502/990 Whitehorse Rd, Box Hill VIC 3128 (YMCA).

(2) By participating in the Promotion, you agree to be bound by these Terms.

(3) The Promotion is available at Gippsland Aquatic and Recreation Centre between the dates of 21 March 2022 and 27 March 2022 (Promotion Period).

(4) To be eligible for the Promotion:

a. you must be not be a current active member at the relevant Participating Centre; and

b. you must become a member at that Participating Centre and commit to a minimum contract period with YMCA of [insert period] within the Promotion Period.

For the avoidance of doubt, the Promotion does not apply if you sign up for swimming lessons, gymnastics or other program memberships.

(5) The Promotion is not valid in conjunction with other offers, unless approved in writing by YMCA.

2. Sign up terms

(1) If you meet the criteria set out in clauses 1(4) and 1(5) above, we will waive the sign-up fee that would otherwise apply when you join up as a member at the Participating Centre.

(2) All other applicable fees and charges in respect of the membership will be payable in accordance with the applicable membership terms. Your membership will otherwise be governed by such membership terms.

(3) The Promotion is only available at Participating Centres.

3. Privacy

YMCA handles all personal information in accordance with its Privacy Policy at YMCA Victoria.

4. Miscellaneous

(1) YMCA reserves the right to amend, cease and / or revoke the Promotion prior to the end of the Promotion Period in its sole discretion and without notice.

(2) To the extent permitted by law, YMCA will not be liable to any person for any cost, loss, damage, liability, expense or claim arising, whether directly or indirectly, in connection with the Promotion.

(3) Any dispute or situation not covered by these terms, will be resolved by YMCA management in a manner it deems to be fair (acting reasonably).

(4) These Terms are governed by the laws of Victoria, Australia.

(5) Members will be bound by their terms of membership with YMCA. To the extent of any inconsistency between the terms of membership and these Terms, these Terms will take priority.

Two weeks free swimming lessons

1. Offer and Eligibility

(1) This '2 weeks free swimming lessons' promotion (Promotion) is offered by [Victorian YMCA Community Programming Pty Ltd (ABN 75 092 818 445) of 502/990 Whitehorse Rd, Box Hill VIC 3128

(YMCA).

(2) By participating in the Promotion, you agree to be bound by these Terms.

(3) The Promotion is available at Gippsland Aquatic and Recreation Centre between the dates of 21 March 2022 and 27 March 2022 (Promotion Period).

(4) To be eligible for the Promotion:

a. you must be not be a current Swimming Lesson student at the relevant Participating Centre; and

b. you must become a member at that Participating Centre and commit to a minimum contract period with YMCA of [insert period] within the Promotion Period.

(5) The Promotion is not valid in conjunction with other Swimming Lesson offers, unless approved in writing by YMCA.

2. Sign up terms

(1) If you meet the criteria set out in clauses 1(4) and 1(5) above, we will waive the sign-up fee that would otherwise apply when you join up as a member at the Participating Centre.

(2) All other applicable fees and charges in respect of the membership will be payable in accordance with the applicable membership terms. Your membership will otherwise be governed by such membership terms.

(3) The Promotion is only available at Participating Centres.

3. Privacy

YMCA handles all personal information in accordance with its Privacy Policy at YMCA Victoria.

4. Miscellaneous

(1) YMCA reserves the right to amend, cease and / or revoke the Promotion prior to the end of the Promotion Period in its sole discretion and without notice.

(2) To the extent permitted by law, YMCA will not be liable to any person for any cost, loss, damage, liability, expense or claim arising, whether directly or indirectly, in connection with the Promotion.

(3) Any dispute or situation not covered by these terms, will be resolved by YMCA management in a manner it deems to be fair (acting reasonably).

(4) These Terms are governed by the laws of Victoria, Australia.

(5) Members will be bound by their terms of membership with YMCA. To the extent of any inconsistency between the terms of membership and these Terms, these Terms will take priority.